Description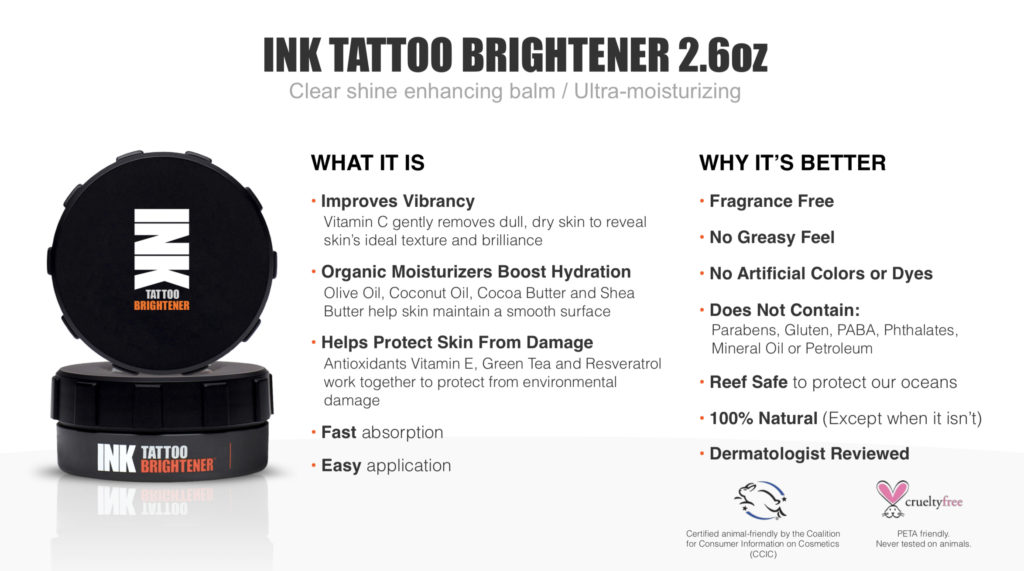 No matter how old your tattoos, INK Brightener will instantly brighten and enhance their detail. Vitamin C gently exfoliates to improve vibrancy and organic moisturizers help hydrate and soothe your skin. Reef Safe.
BENEFITS
BRIGHTENS YOUR INK INSTANTLY
VITAMIN C gently exfoliates to improve tattoo vibrancy and detail
ORGANIC MOISTURIZERS hydrate and smooth skin
REEF SAFE protect our oceans
POWERFUL ANTIOXIDANTS protect skin from damage
TOXIN FREE better for your health and skin
CRUELTY FREE helps the planet
PRODUCT DETAILS
2.6 oz
Contains Vitamin C, Shea Butter and Coconut Oil
Not Tested on Animals
Dermatologist Reviewed
Paraben-Free
Petroleum-Free
USAGE INSTRUCTIONS
To be used on healed ink.
Apply one swipe to healed ink and rub in fully. A little goes a long way and lasts all day.
Maximize results by layering the INK Brightener with INK SPF products.
Apply the INK Brightener beneath the INK SPF 50+ Spray. With the INK SPF 50+ Stick, first apply the stick, rub it in, then apply INK Brightener.